Epistles
It is morning in Pamplona, Spain and I am in an internet cafe sending you this email. The sun is shining and it is about 60° F (16° C). I have made it through the first three stages. It has been difficult, glorious, miraculous.

The miracles started when I had a concert of Brahms music with Hart on Sunday the 5th of May. As I began singing my first song and looked out into the audience, there where my children, Geoff and Rochelle who had come from Vancouver, B. C. to see me off on my journey. I almost had to stop singing, but I managed to be professional and keep my cool.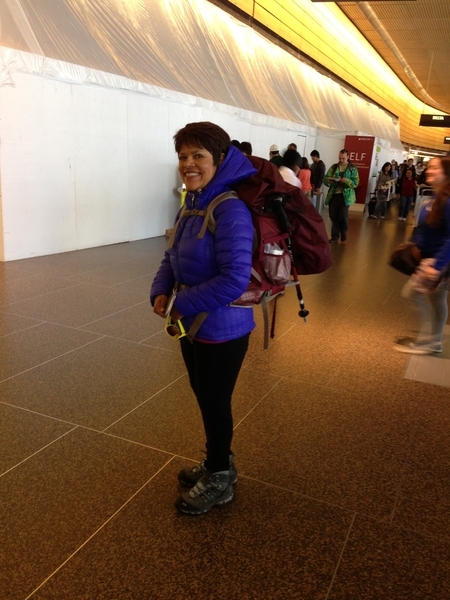 The miracles continued when I arrived at the airport with my walking poles attached to my backpack. As I went through security, the guy at the machine took one look at my backpack before feeding it to the machine and said "Oh, oh, we have some ski poles here." The woman who was the supervisor came over looked at them and said, "Those are not ski poles, they´re walking poles"at which point I chimed in, "Yes, that´s right and I will be using those to walk 500 miles to Santiago Spain on my pilgrimage." She looked at me and opened her arms and hugged me and said to the guy at the machine, "send that backpack through." Once through another man on the other side who heard the conversation came over and told me he would carry my backpack and the container holding my shoes and jacket to a place where I could sit and put myself together. All this time, my children, Geoff and Rochelle and Hart are watching this because they stayed in front of the security area until I left. When I told the woman who passed me through that those people back there waving frantically were my husband and daughter and son-in-law, she said, "Your daughter is beautiful." Of course, I already know that!
I waved goodbye to Hart, Schelle and Geoff and went on to get on the train. As the doors were about to close, a couple rushed in and then we were off to get to the gate. The woman turned to me, seeing me with my backpack and said "Are you coming or going?" To which I replied "I´m on my way to Paris and then on to St. Jean Pied de Port to begin my Camino de Santiago journey" to which she replied, "We have done it and it´s wonderful. We´re on our way to Paris as well to vacation, but we plan to do El Camino again." We went to our gate and her husband got me water and we chatted until we got on the plane. They were four seats in front of me on the same side and we chatted off and on throughout the trip.
I had an uneventful, gentle trip and arrived in Paris at DeGaulle Airport, took the train into Paris and stayed at a beautiful hotel right in the city that I highly recomend to anyone going to Paris. It is the Hotel Grandes Ecole. Then my sister Maritza´s friend Cathy Wallace met me in the evening and took me to a lovely creperie for dinner. We strolled through Paris in the evening, and the next day she brought me to the train station in Montparnasse to catch my train to St. Jean Pied de Port. Cathy was one of those angels who surrounded me with love and saw me off at the train station--once again waving me on as I embarked on my journey.
The train took me to Bayonne and from there I was to take a bus to St. Jean. The bus was full of pilgrims and who would sit next to me but a woman named Madeline from Ponce, Puerto Rico. We spoke Spanish all the way into St. Jean, where we arrived at 10:30 p.m. I had reserved a hotel--The Pyrenees Hotel and had a wonderful night in a fabulous hotel.
Friday morning I was up at 5:30 and got myself ready to begin walking. I left the hotel around 7:00, walked to the place where I would have to register and have my book stamped and by 8:00 I was walking. I had been told to take the easier route which follows the highway, but when I got to the place where I was register, the woman registering me said, "Oh you must go through the Pyrenees, it is so beautiful and mystical and you will not be sorry." So I did and I am so glad I did. It was raining when I started walking and I had my rain pants and jacket on and was well prepared. Later in the day it stopped raining but remained overcast, which was wonderful because it did not get too hot. It was a magical walk, but certainly not for the faint-hearted. The last four miles coming into Roncesvalle are very steep and rocky. But I made it!
Elevation Map of Day One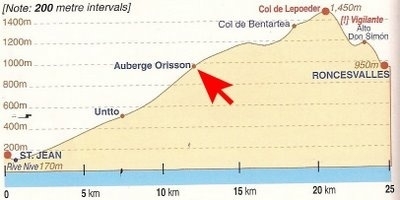 Friday evening, I stayed in the Albergue in Roncesvalle and it is a beautiful albergue, very modern, with wifi, 2 bunkbeds to a compartment, very clean, comfortable mattress and I slept well. But lo and behold! The two women in the opposite bunkbeds, from Seoul, Korea, were up at 5:00 and out the door at 6:00 so it was a very short night.
Saturday morning I left Roncesvalle and walked to Zubiri. That too was a very challenging day because the arrival into Zuribi was almost as difficult as the descent into Roncesvalle the day before.

I stayed in a small Albergue where when I arrived finding a place to eat was impossible as everything was closed. The hospitalier at the Albergue, Peter, called his significant other and she cooked for me a beautiful lentil soup and a rice dish with mushrooms, peas, herbs and I don´t know what, and brought it to me freshly made and hot. Can you believe it? It was delicious and wonderful. Peter is from Holland and is a fabulous aquarelle painter and his significant other is from the middle east. A beautiful woman who when I left, hugged and kissed me with tears in her eyes and said, "Please, let us not lose touch with each other."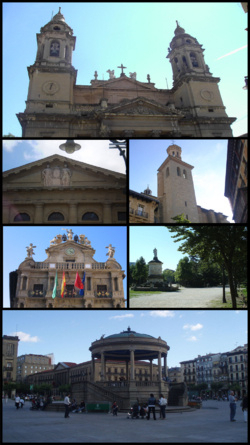 Sunday morning I was off to Pamplona. It was the gentlest trip yet. I left around 9:00 a.m. because in this Albergue one can stay until 9:00. I think it is because it is small-2 sections with 10 beds in each section. The beds were great and they even provided a blanket if one needed one. I arrived in Pamplona at the Albergue Municipal de Jesus y Maria. But not before getting lost and going to the Albergue Paderborn, where a beautiful German woman welcomed me but could not lodge me because they were full. She called the Albergue Municipal and because they all know each, she told them they needed to hold a room for me, even though one is not allowed to reserve in the albergues. The German woman, and of course we spoke German together wanted so much to have me stay at her Albergue--when I left to get to the Albergue Municipal, she kissed me and hugged me and said to me, "Visit me in Paderborn." So wherever I land, I am being received and enveloped in love and kindness and I can´t believe how beautiful people have been.
The Albergue Municipal is huge! I think 250 bunk beds so that means 500 people in two huge rooms, one on one floor, the other the second floor. We are all men and women together. In the Roncesvalle Albergue, we had sections for women and sectons for men and sections for married couples. We also had a woman´s bathroom. In Zubari we were mixed, but it was smaller, although in my section of 10 there were 8 men and another woman and myself. The other woman was Lauren and she came from Wisconsin.
Anyway, in Pamplona, in this huge Albergue on one side of me was a married couple from Seoul, Korea and on the other side a guy from Holland who lives in Spain in the south, and a German med student from Munich. I had been experiencing pain in my lower right side and wondered if I´d done something to my hip during those two back to back downhill difficult treks. The German med student asked me where the pain was, he felt it and asked if I was feeling any pain down my leg to which I said no. And he told me I could take some Ibuprofen for inflammation and that I would be fine. Isn´t that amazing? Even getting a diagnosis from my next bunkmate. Of course, this morning he got up stripped naked with his thingy right in my face because the spaces are so comprimed. That´s the European way and besides he had a gorgeous body so I wasn´t too discomfitted.
That brings me to right now. I will walk 5 kilometers to Cizur Menor, stay in the Albergue Maribel Roncal and have a rest day. Tomorrow I will walk from Cizur Menor to Puente la Reina, another challenging day because there is quite a difficult uphill climb and another steep downhill trek to get to Puente la Reina. I know I will be fine because you are all holding me in light and love. Thank you for your support. I feel it every step I take.
Much, much love,
Awilda