Epistles
I am in Sarria.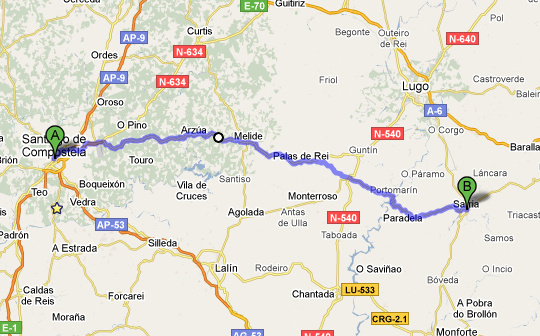 It is almost 7:00 p.m. on a beautiful, sunny clear evening. Normally, I would be in my albergue or hostel getting ready for bed, but I have found an internet cafe and decided to take this opportunity to write since I don't know when I will have the opportunity to do so again.
The last time I wrote about my physical travels, I wrote about León. Leaving León took a long time because I had to go through the city to get on my way to Villar de Mazarife. I got to the next town where Hart warned me to pay attention to the left deviation at the bottom of the hill as I left town and then, I was on my way.
I arrived at Villar de Mazarife and as I entered town there was my albergue--El Albergue San Antonio.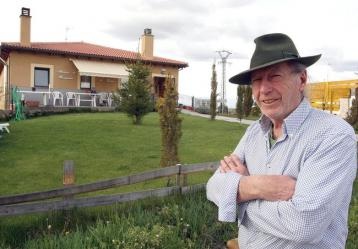 It was a beautiful day and those who had arrived were outside sunning themselves on the lawn or on chaise lounges. There were lots of German, French and Spanish people staying there. I had a lovely room to myself, although I had to share toilet and showers with others.
That evening, the meal was a communal meal. There were about 80 of us in the dining room and this wonderful man cooked for us. On my left was a young German woman, Ulrike, who had just started El Camino in León. On my right was a delightful Canadian man from Montreal. Across from me sat a couple from Holland and the young woman who I mentioned in my last Epistle who said she was addicted to El Camino.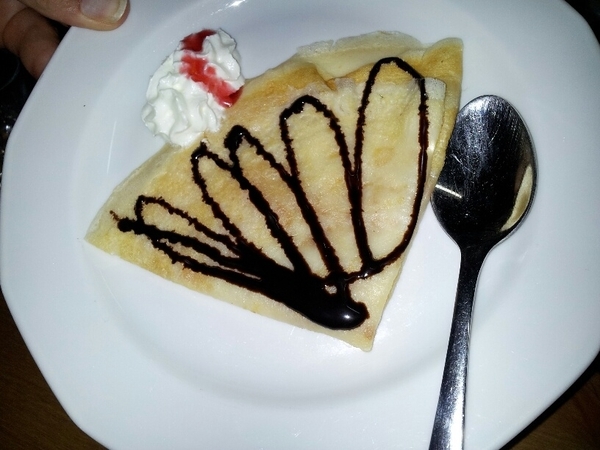 We sat on three long tables and our first course was a delicious salad of fresh mixed greens with nuts seasoned with a wonderful balsamic vinegar dressing. The next course was a fabulous pumpkin soup with yummy home made bread. That was followed by a vegetarian paella which was delicious! We ended the meal with a chocolate crepe with strawberries. The meal was served with wine and water and there was coffee or tea after dinner for those who wanted it.
All 80 pilgrims were exquisitely fed. It was wonderful! The man who cooked it all is a physiotherapist and we were able to have a lovely conversation where he told me that if I run hot water on the nape of my neck when I bathe, it will help keep my blood pressure down. I just never know what information I am going to get that will be helpful in my healing process.
(According to this lovely article, Pepe Giner (see photo above) opened the hostel 'San Antonio de Padua' six years ago in honor of cancer survivors. You can read the wonderful article (in Spanish) here or copy and paste the text into Google translate. You'll get the gist of the article ;-)
As I sat there and looked at that room full of people, I couldn't help notice that I was the only person of color in that room. I thought about that and realized that I have not met one African American on El Camino. I met a very nice couple from Haiti, but no Black Americans. I found that an interesting observation.
I can't take you through every place I stayed, but want to speak about a couple of places that were fascinating for me. One was Ponferrada. That is where I visited the castle (see below) with the husband and wife I spoke about earlier.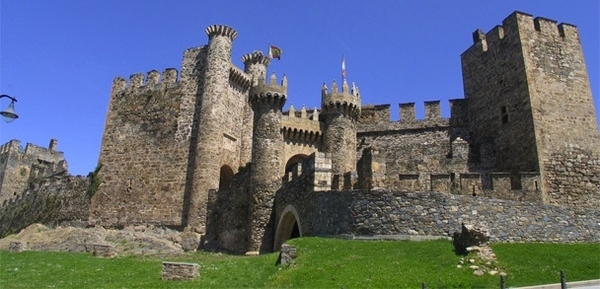 It is a lovely city and the seat of the Knights Templar.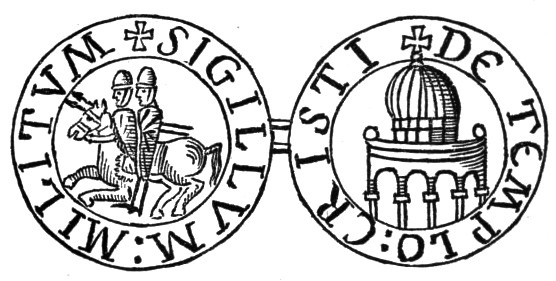 I was in a darling store and of course got into an animated conversation with the woman who was working the store. When I told her I was Puerto Rican, she lit up and said last year a Puerto Rican man came through the first week in July which is when the city has a medieval celebration.
Men in the city dress up as knights, wearing mail and carrying swords and they enter the city on horseback at night. The women are also dressed in medieval gowns and there is a meal in the castle and they celebrate the entire night. There is someone who is knighted and leads the procession each year. Being knighted is quite an honor.
Here's a video (in Spanish) that gives you sense of the celebration
Well, this Puerto Rican man was on El Camino and he couldn't stay up all night celebrating because he had to get up the next morning to continue his Camino--perhaps he had a time constraint--I don't know. In any case, he is returning this year specifically for the medieval celebration and he will be the one knighted. She said it has been quite a big deal preparing for his coming, getting him accommodations, getting his measurements for his clothes, he has been practicing riding a horse and she spoke with great excitement about his coming. We Puerto Ricans are getting around.
Speaking of riding a horse, I'm going to skip to my journey from La Portela de Valcarce to O'Cebreiro because on the way to O'Cebreiro, a man approached me and asked me if I wanted to ride a horse up to O'Cebreiro which is quite a climb (see below).
Here's an Elevation Map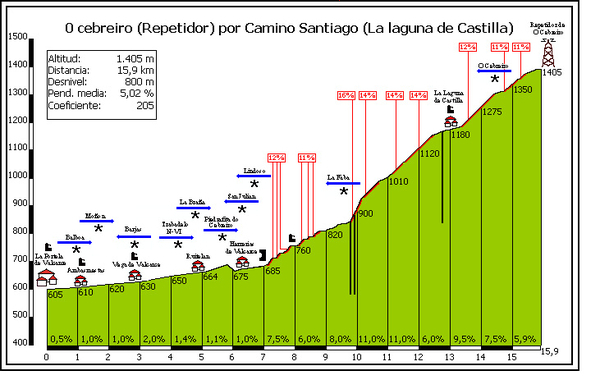 (click to enlarge)
I was really tempted because once again, this would have been the experience of a life time. But never having ever been on a horse, I thought, I need to do this in a pasture, not climbing a steep hill. I am so glad I had the wisdom to say no.
I spoke with three women who rode the horse up and they said, the guide was amazing and the horses very experienced.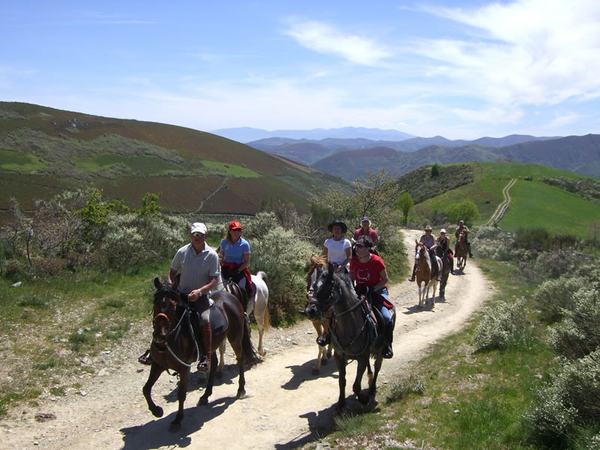 But first, they rode English saddle and the man kept telling them to hold their hands straight out ahead of them and to have very straight spines and be one with the horse. They said it was scary because sometimes the trail was so slender, you could literally see down the mountain and occasionally the horses stumbled. They said the horses worked so hard to keep them on the trail that when they arrived at the top, the horses were lathered in sweat. And these were women who had experience on horses, although they all rode Western Saddle. So I can say, this is one time I was open to being sensible.
Now, I will back up and speak about my time in Villafranca. I stayed at La Puerta del Perdon, a hotel that is an old, exquisitely remodeled 15th century house (see below).
I chose to stay there because of the name. La Puerta del Perdon means "The Door to Forgiveness". I really feel my life has been one of learning and practicing forgiveness and I said, that's where I am going to stay.
I arrived and went into this hotel and it took my breath away. It was beautiful. My room had a stone fireplace and a wooden floor with those wide planks they used in centuries gone by.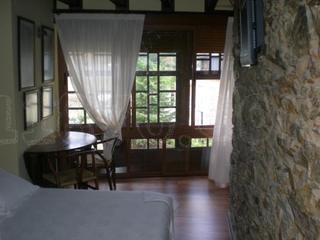 I went into the bathroom and there was a plaque on the wall that said "Quien ama la música, ama la vida." Translated it means "Whoever loves music, loves life."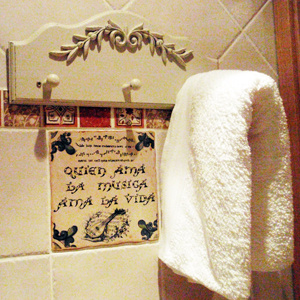 Then, in my room there were these original parts of orchestral scores on the wall.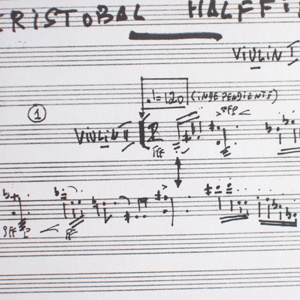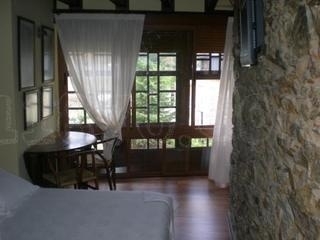 They were compositions by a man named Cristóbal Halffter.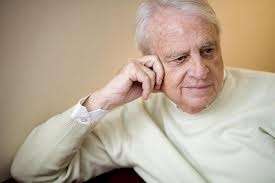 I went downstairs for lunch and asked who Cristóbal Halffter was and was told he was the most important modern music composers of the 20th century. I had never heard of him.
When I spoke with Hart, Hart said, "Oh my goodness, you are staying in the Cristóbal Halffter room. He is very famous." Of course, my husband would know this. Anyway, I found out that Cristóbal Halffter owns this hotel. He lives in Villafranca.
(Read more about his connection with the owners and see a few more photos on this webpage.)
On the card for La Puerta del Perdon, on the back, it says,
"Everyone regardless of whether he is rich or poor,
deserves to be treated with love and respect and in beauty.
He who serves his fellow man, serves me."
I almost wept.
Because I was a hotel guest, I had first dibs on a table.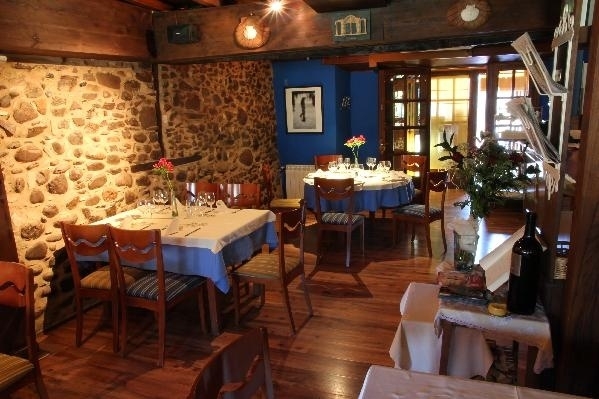 The maitre'd came and asked me if I minded if a gentleman who wanted to eat, but was not from the hotel, could join me at my table because all the other tables were taken. I said "Absolutely. This is not my table and all are welcomed to sit at the Welcome Table."
I sat and had lunch with a Spanish man from Valencia who was a psychologist. The food was magnificent. We spoke for about two hours and at the end he said, "I want to pay for your lunch because I have so enjoyed my meal with you and want to thank you for your generosity in being willing to share your table." I graciously accepted and thanked him for his generosity.
I had my wash done there and it was returned ironed and folded beautifully. Everything was done with such thoughtful intention and I only paid 40 Euros for the night. Another couple who stayed there said to me, "This is better than the Parador"--the very famous exclusive luxurious hotel in Santiago.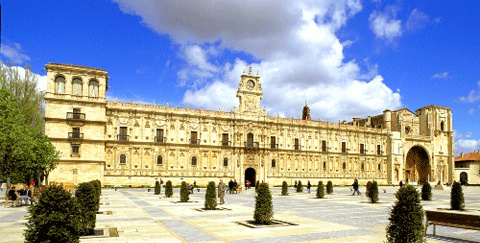 It is a chain of luxury hotels and there is also one in León.
I think the beauty expressed in the intention to create something beautiful for pilgrims--the philosophy that going first class is not about how much money we spend, but how thoughtfully and lovingly we create for others and serve, is so splendidly articulated. What a concept!
Yesterday, in Biduedo, I went to the dining room to have lunch and there was a darling young couple having lunch. I always look for people to sit with, so I smiled and said "may I join you?" They said "of course." It turned out they are from Santo Domingo in the Caribbean, not the Santo Domingo in Spain. I said "Oh, we're cousins because I'm from Puerto Rico." We started talking about food and the wife said she misses platanos (plaintain). The Spaniards call bananas "platanos". However, for us, platanos are something very different (see below in the middle).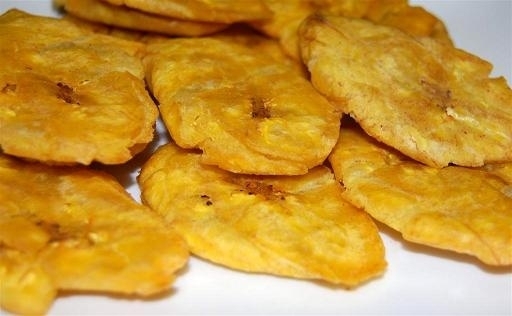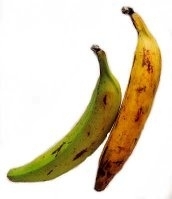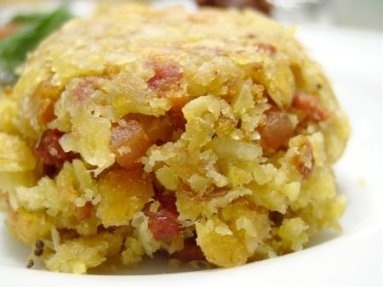 We spoke about making "tostones" which are green plaintains that we fry until they are crisp (on the left above), and we spoke about "mofongos" (on the right above) which are plaintain dumplings. We had the best time and at the end, she gave me her name, phone number and address and said "if you are ever in Ponferrada, you will definitely stay with me." So now, I have homes where I can stay in Burgos and Ponferrada. It's wonderful!
I continue to learn to keep my heart open and not judge. Last evening, I ate with a step-mother and step-daughter from Atlanta, Georgia. They are absolutely delightful and I said what a blessing it was that they had such a loving relationship that they would do The Camino together. They had a friend who was traveling with them, a friend of the step-mother for over 25 years from Washington, D.C., and I watched this woman drink a full bottle of wine all by herself in about 2 hours. She was pretty plastered by the end of the meal.
There was a time when I would have been really upset and would have judged her very harshly. I realized last night that:
No matter what anyone does,
I can choose not to let that disturb my peace
and take me away from myself.
It was a giant step in my growth and letting others be where they are. When I left, I hugged the stepmother, step daughter and I hugged her, as well, and I could do it lovingly.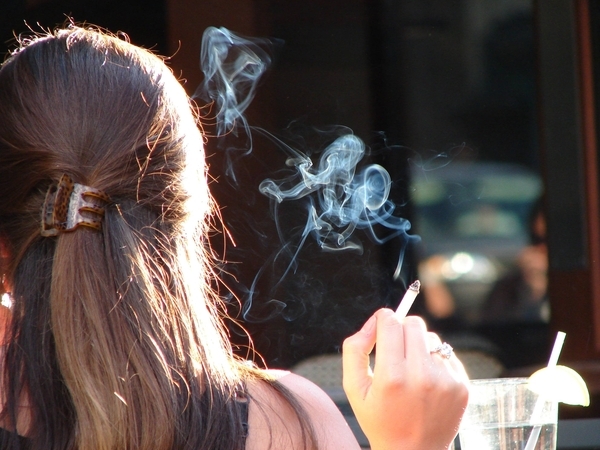 I had also stopped earlier in the day for lunch and had lunch with a man from Belgium named Rob, a Spanish woman named Marisa and a German woman named Doris. They were all traveling together. We sat and they offered me cheese and bread, which I partook of, and we had a wonderful time together. At the end as I sat there, they all lit up cigarettes and blew smoke in my face.
I can say that I really believe none of us is addiction free. My addiction may be food, or control, or judgment and so who am I to frown on someone else's choice of addiction.
It is very humbling to come to the realization that when I look at a homeless person on the street before I judge them and say, there but by the grace of God, I, too, may be homeless because I have left myself and there is nobody home. Even if, I am living in a house and have all the commodities that we associate with abundance. This Camino is a trippy trip!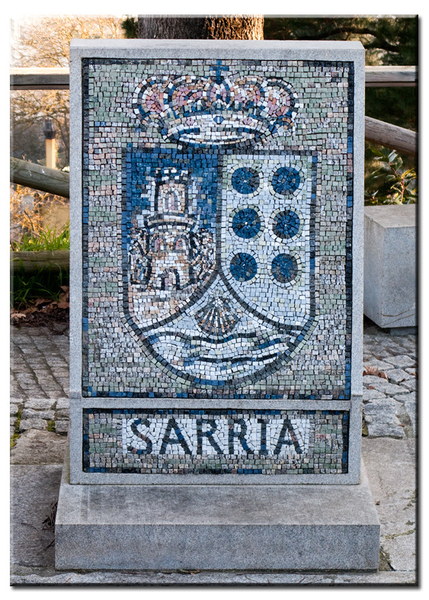 So I am in Sarria. Can you believe I have just over 100 kilometers (62 miles) to get to Santiago!
Some say, these are the hardest kilometers because we start to let our guard down. It's like they say that many accidents happen very close to home. I will ask you to hold me in light as I continue to strive to stay present, to pay attention, to not get complacent or feel the work is done. And as the man in Carrion said to me, when I arrive in Santiago, that is when the work begins.
Thank you for your faithfulness in staying the course with me. You are an integral part of My Camino.
From my heart to yours,
Awilda