Epistles
I left at 8:00 a.m. and arrived at 5:30. I did The Napoleon Way instead of the Landstrasse. (That's a 1,280 m / 4,200 ft climb - see below) It was hard! The first 8 kilometers were brutal. The four miles coming downhill at the end pure agony because the hill was really steep, but I managed to stay upright.
Elevation Map for Day One!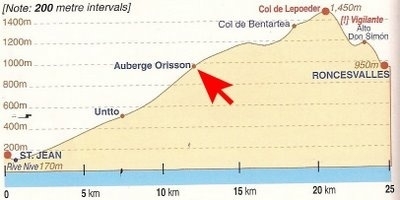 I am feeling tired but great!
The Pyrenees were magnificent. It was drizzling when I left St. Jean Pied de Port this morning. But after an hour it stopped and it was cloudy the rest of the time.
The albergue is fabulous! Really modern and very clean with great beds. I am in a room with two sets of bunk beds and we have wifi. The beds are numbered and I have a bottom bunk. I paid 10 euros for the night. I am really impressed.
That's all for now,
Awilda